Enterprise DevOps enables the rapid and continuous delivery of applications and services by applying DevOps processes, tools, skills, teams, and leadership across the business.
What Is the Autonomous Digital Enterprise?
The Autonomous Digital Enterprise is the framework for the successful future enterprise. It's a digital-first business with distinct tech tenets and operating model characteristics that support transformation through actionable insights, business agility, and customer centricity. Enterprise DevOps is one of five tech tenets that galvanize and sustain the Autonomous Digital Enterprise.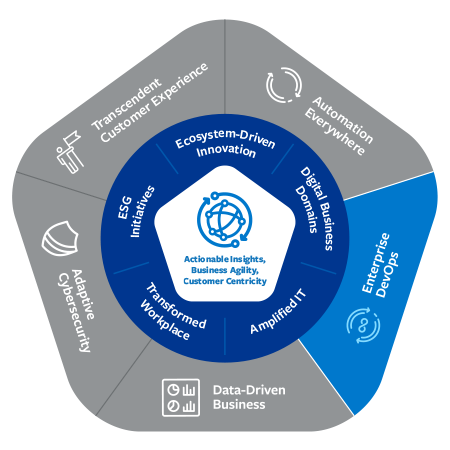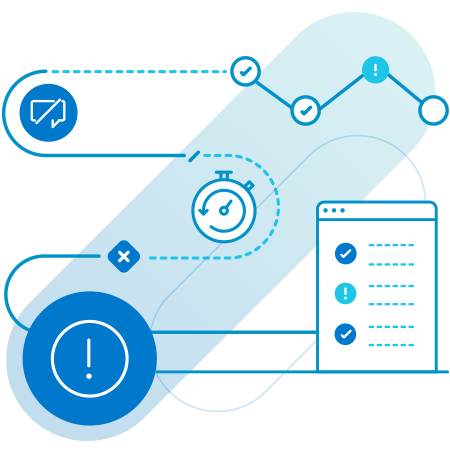 Current Business Challenges
The 2021 State of DevOps Report shows that roughly 80 percent of organizations are "stuck in the middle" when it comes to their DevOps journey, with 58 percent saying they still have multiple handoffs between teams to get to deployment. Other barriers to adopting enterprise-wide DevOps include:
Lack of communication across siloed structures
Processes outside the scope of core DevOps that provide slow feedback and delay deadlines
Legacy architecture that doesn't support DevOps practices and integration
Manual workflows hampered by people and process hurdles
Post-release bugs that lead to costly fixes and higher mean time to repair (MTTR)
Decreased quality, velocity, and efficiency from inadequate staff and skills
How Technology Helps
When applied comprehensively, DevOps principles can quickly add value by enabling end-to-end automation, frequent releases, and creative collaboration across the business. Enterprise DevOps can be used successfully through continuous improvement principles, cultural and behavioral changes, and technology optimized by artificial intelligence, machine learning, and automation to help businesses:
Discover processes and bottlenecks outside software DevOps
Automate and streamline compliance governance
Create a frictionless environment for success
Re-engineer areas like project planning, architecture alignment, and service management
Yield direct feedback from crash and failure monitoring
Modify metrics, controls, and policies to automate scanning, testing, and reporting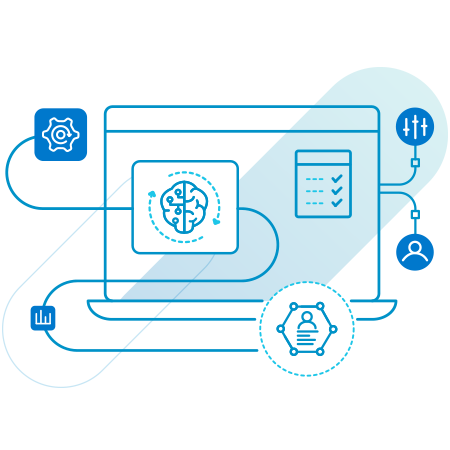 See how companies like yours are implementing Enterprise DevOps principles