BMC Certified Associate: Helix IT Service Management Migration Online Exam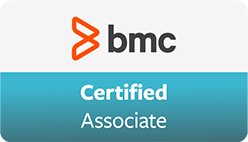 Online Exam
BMC Helix is a portfolio of SaaS offerings delivering cognitive service management (CSM) that is fast, accurate, and cost-effective, across multi-cloud, multi-device, and multi-channel environments.
The BMC Certified Associate: Helix IT Service Management Migration Online Exam will validate the technical competencies needed to successfully migrate environments from on-premises ITSM to BMC Helix SaaS instances.
Good for:
Administrators, Consultant
Steps to Certifications
Step 1.  Take the recommended courses for the Certified Associate learning path. Purchase the required exam (attempts).
Step 2.  Study and prepare for the exam. BMC recommends 6 weeks and also a minimum of [3] months experience with the product before taking the exam.
Step 3.  Take and pass the exam.
Step 4.  If you have failed the exam, purchase another exam attempt and start at step 2.
Examination Details