Featured innovations
To further enhance our modern hybrid environment management, BMC Helix now supports VMware Deep Discovery via API, which allows for full discovery of virtual machines (VMs) without the need for network access and replaces the need for SSH/Powershell scan.
BMC Helix Intelligent Integrations has expanded its capabilities to support Catchpoint, CA APM, and Nagios vendors. These additional third-party data sources will improve visibility, detection, and analysis with expanded observability data. For a full list of supported data sources, please visit the BMC Helix Intelligent Integrations web page.
In this release, we added even more artificial intelligence (AI)-driven insights by optimizing recommendations for Kubernetes based on Java Machine Extensions (JMX) metrics. This new capability uses AI and machine learning (ML)-generated saturation predications for Java Virtual Machine (JVM)-based services and aligns Kubernetes and JVM configurations. Learn more at BMC Helix Continuous Optimization.
Watch the video at right to learn more about these and other new innovations in the latest release.
Dynamic Service Modeling
For IT teams working in complex business environments, finding the root cause of a problem can mean hours spent toggling between systems, dashboards, and log reports. This results in longer resolution times and less bandwidth to spend on strategically important work. Dynamic service modeling—the practice of creating a service infrastructure model that stays up to date in real-time—helps teams work faster and make time for innovation by providing a source of truth for complete infrastructure monitoring.
The first step to enabling dynamic service modeling is to ingest data from sources across your cloud-based, on-premises, hybrid, and third-party environments.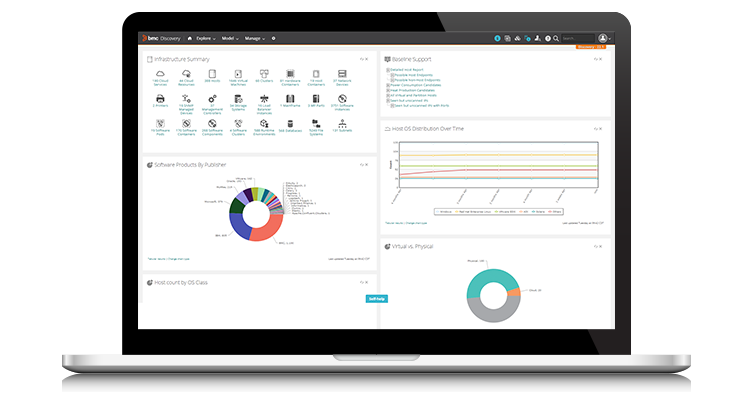 Accelerate innovation
BMC Helix Continuous Optimization provides growth forecasting that accurately predicts and aligns resources with critical business drivers that accelerate innovation. New capabilities enable you to:
Replace time-consuming, manual model development: Provide faster insights and increase decision-making accuracy to align resources with future business requirements
Right-size resources to align with future business requirements: Business Service Prediction uses advanced analytics to forecast growth of each business driver with existing capacity accurately
Increase visibility and service assurance: Dynamic Service Model integration increases visibility of business service health using comprehensive consolidated views of application and infrastructure data
Accurately predict cost and resource requirements for migrations to cloud: BMC Helix Cloud Migration Simulator increases decision-making accuracy when planning for on-premises to cloud migrations to reduce time, complexity, and cost
Reduce risk
BMC Helix Operations Management with AIOps helps improve service, avoid disruptions, and reduce IT risk. New capabilities enable you to increase observability and use service-centric monitoring to:
Reduce service slowdowns and MTTR: Log Analytics and Log Enrichment collects log files across a wide variety of data sources to provide early diagnosis of potential issues
Reduce event noise to improve service: BMC Helix Operations Management integration capabilities enable AIOps to consume service models for Situation and Root Cause Analysis to increase manageability
Reduce complexity and accelerate time-to-value: BMC Helix Operations Management's Service Modeling & Blueprints reduce time to create service models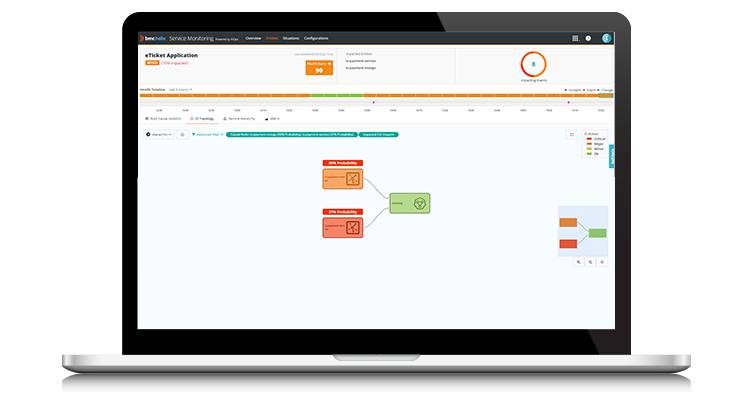 Increase security
BMC Helix Operations Management with AIOps and BMC Helix Platform increase security and compliance by automating policies and change requests. New capabilities enable you to:
Increase compliance and staff productivity: BMC Helix Intelligent Automation automates policies and processes for change requests to ensure appropriate approvals and improve talent management & employee experience
Increase security and minimize risk: Unified views and common notification services ensure data integrity by reducing complexity associated with managing notifications from multiple platform components