BMC Helix for Portfolio Management provides a streamlined framework for efficient business process execution with implementation via programs and projects.
Centralize and automate project and demand requests across your organization
With custom microsites, capture the right request data, automate approval workflows, and route requests to project management office (PMO) and demand management teams
Collaboratively generate demands aligned with the organization's goals to support C-level leadership in making informed decisions
Use real-time and historical insights for key decisions and ensure optimum resource allocation
BMC Helix for Portfolio Management's intake and demand management capabilities help you prioritize the right investments for a sound financial future and generate and manage your innovation pipeline, enabling your business to continuously adapt and reinvent in response to changing market demands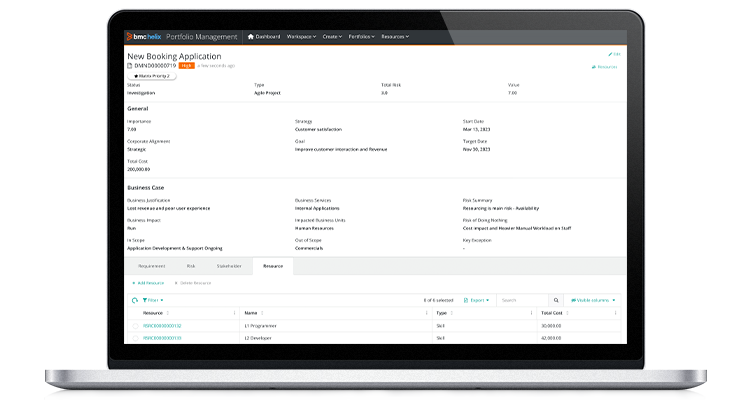 New booking application process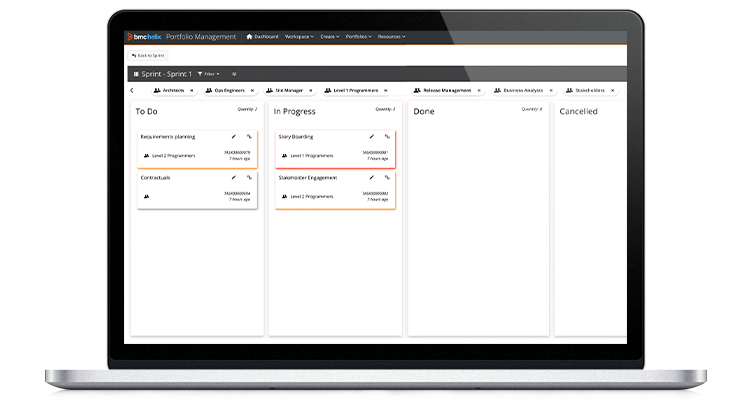 Agile management across multiple methodologies
Empower your teams to work on projects efficiently and flexibly
Delivering projects on time and within budget and choosing the right delivery methodology are critical for realizing optimum return on investment (ROI).
Whether you're delivering new products, services, or maintenance programs, BMC Helix for Portfolio Management enables you to execute projects using various agile methodologies, including popular ones like Scrum and Kanban, as well as the Waterfall method or your preferred solution mix.
Empower DevOps cultures with BMC Helix for Portfolio Management
Seamlessly integrate into DevOps tool chains for code release to tools like Git, GitHub, and Bitbucket using the powerful BMC Helix platform and IPaaS connectors.
Manage application bug fixes and provide rapid application support in a feature-driven environment by automatically transforming tickets into requirements with user stories and tasks delivered through agile projects using visual drag-and-drop tools like Kanban.
Thanks to native integration with BMC Helix for Portfolio Management's change and release management capabilities or third-party release tools, you can continuously, rapidly deliver high-quality products and services in response to changing market needs.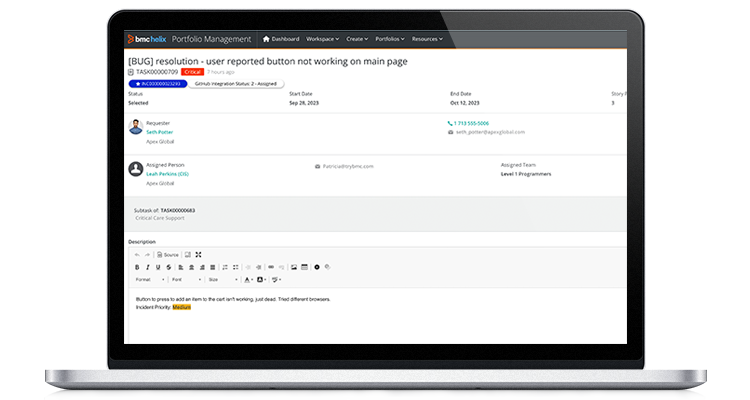 Integrated change and release management