BMC Helix Digital Workplace helps organizations drive, power, and shape the future of work with tailored, omni-channel engagements anywhere, anytime across the entire enterprise.
Why is a Digital Workplace important?
Every industry is going through a major transformation in the wake of the pandemic. Enterprises and their employees are all adapting to the changes required to maintain productivity and employee engagement. The need for organizations to automate, customize, and deliver the essential tools and information needed by their employees has never been higher.
According to IDC, by 2022 nearly 45% of repetitive tasks will be processed by digital coworkers.1 Employees currently spend as much as 30% of their workday searching for information that they still can't find.2 Tailored, omni-channel engagement and proactive, conversational user experiences will soon be the norm, as will integrated business skills to enable workers to remain focused on critical tasks.
BMC Helix Digital Workplace addresses the challenges of an over-tasked Service Desk supporting a hybrid workforce operating outside the traditional office. It frees employees to focus on more strategic work by making it easy to find what they need using their preferred device, from anywhere, at any time. Intelligent, configured, omni-channel engagements delivered through a one-stop shop provide business users access to services, knowledge, and policies offered across the enterprise from IT and other lines of business.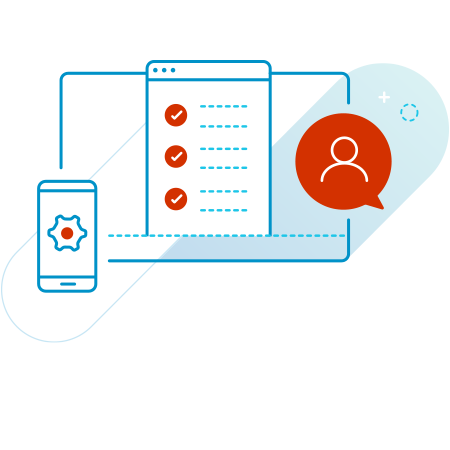 Benefits of a Digital Workplace
Delivering intelligent self-service
Employees can quickly resolve their issues by getting the information needed through multimedia-enabled knowledge articles delivered in their manner of choice. They can also interact with a virtual agent or chatbot using natural, conversational language with a personalized interface to help them optimize their productivity.
Unifying the enterprise service catalog
Modern enterprise organizations ensure their employees have what they need to be successful. No more hunting and investigating for services and products. With custom, tailored experiences through the studio capabilities, employees can order hardware, software, and services from an intuitive storefront in a single-click—all while adhering to enterprise policies.
Additional capabilities provided through the studio solution enable Service Delivery Owners to extend and improve experiences by authoring and publishing customized, special-purpose pages for organizational, team, or individual points of view.
Tailored omni-channel engagements
Interact with channels that can be configured for more value-added experiences. Using integrated knowledge management capabilities, employees can quickly locate the information they need. As the foundation for the future of work, BMC Helix is specifically designed to deliver compelling employee engagements and provide optimized experiences to work as efficiently as possible.
Ease of administration
Whether it is IT, HR, Facilities, or other lines of business, organizations can easily organize and provision all the services and tools their employees need. Organizations have straightforward, highly configurable ways to present their offerings to employees. They can customize the experience, like creating sub-catalogs to scale service delivery via personalized bundles, banners, virtual marketplaces, and more.
Trends Driving the Digital Workplace
Intelligent automation: To help reduce error rates, eliminate time spent on tasks that can be automated as well as help solve issues either through self-help or knowledge search, saving higher skilled resources for more complicated tasks.
Omni-channel of choice: Using channels configured with value-added experiences and knowledge management capabilities, employees can find the information they need, when they need it.
Continuation of hybrid workforce: Employees are no longer bound by traditional enterprise structures, and this multi-generational workforce has varying needs for collaboration and communication.
The future of work: Concierge-level, proactive automation services will help increase productivity and relieve the time burden on employees.
Expectations of Today's Workforce
Replace a sprawling service catalog with a unified, seamless service experience across devices, locations, and modes of communication.
Responsive: So that people can work on any device, anywhere without compromise.
Intelligent self-service: Employees want proactive engagement with digital assistants that understand natural language, make helpful suggestions and know who they are.
Simplified service catalog: So that employees can take care of their own needs, arrange support on their own schedule, and stay productive.
Consumer-like experiences: To engage employees with a consumer-like experience that is intelligent, conversational, and personalized.
Solutions for Your Digital Workplace